duoflex® VTX:
Bimetal Blades for high-performance cutting of tubes, profiles and solid materials
The performance advantages of the duoflex® VTX bimetal band saw blade are best seen when cutting large to very large work pieces. Ideal for cutting corrosion and acid resistant steels as well as high-strength steels, tool steels and nickel-based alloys.
The integrated tooth height differences combined with different set widths reduce the cutting forces significantly, especially when cutting large work pieces. The fatigue strength is also increased by the strongly stretched gullets. Additionally, the specially developed tooth geometry and micro-wear resistant cutting edge provide excellent cost per cut performance without the use of carbide.
The coated version, nanoflex® VTX, enhances wear and heat resistance due to the high-quality TiAIN coating. Both versions of VTX are available in dimensions from  1" x .035" to 3-1/8" x .063" or 27 x 0.90 mm to 80 x 1.60 mm and in tooth pitches of 0.65/0.95, 0.75/1.25, 1.1/1.5, 1.4/2, 2/3 and 3/4 teeth per inch (tpi).
Our bimetal saw blade duoflex® VTX in detail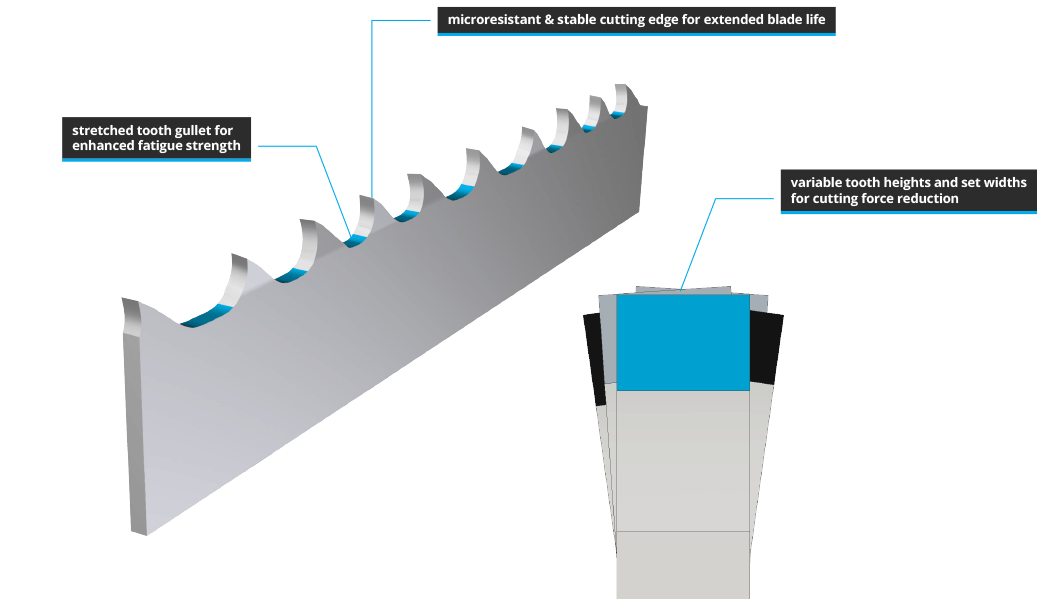 Advantages of duoflex® VTX
Combination of tooth height differences and
varying setting widths for cutting force reduction

Stretched tooth gullets for enhanced fatigue strength

Variable, positive tooth geometry for extended blade life

Outstanding micro-wear resistant cutting edge
Performance in large to very large work pieces

Increased precision and stability

nanoflex® VTX available with TiAIN coating
Do you have questions about our
innovative bimetal band saw blade duoflex® VTX?
We are glad to advise you personally on our products.
TiAIN stands for titanium aluminum nitride: This chemical compound consists of aluminum (AI), titanium (TI) and non-metal nitrogen (N). It is a hard coating that provides higher oxidation and heat resistance. The nanoflex® VTX cutting speed and productivity can be significantly increased, due to the coating's added resistance to increased heat generation.
Success Story: Bimetal bandsaw blade duoflex® VTX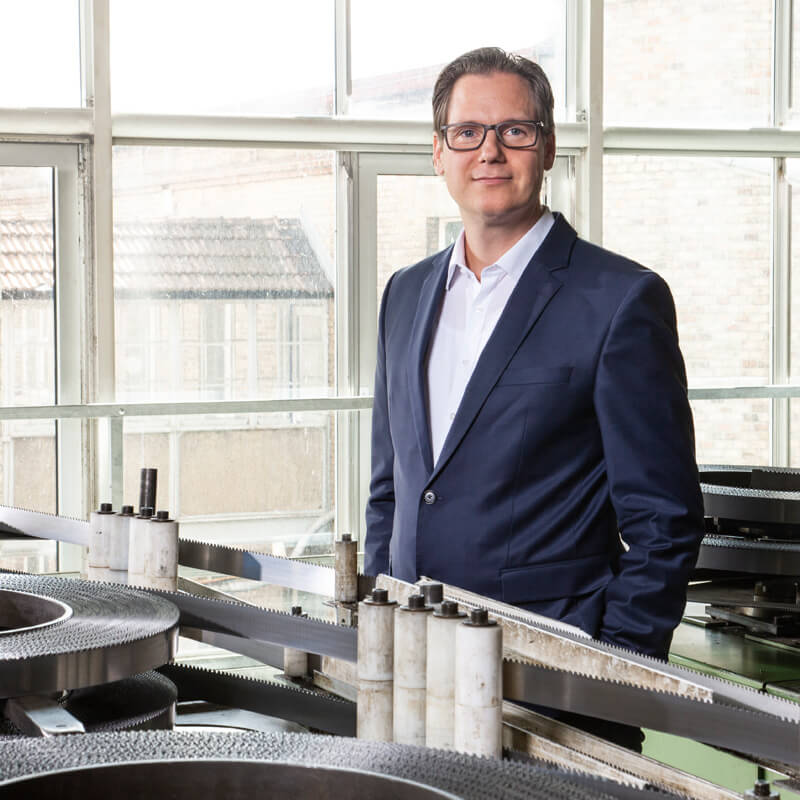 duoflex® VTX metal band saw is one of the most innovative bimetal band saws made by Eberle – why does this saw blade perform so exceptionally well?
The new tooth geometry combined with micro-wear resistant cutting edge are specially developed to increase performance. VTX is specially designed for large to very large work pieces, as the combination of different tooth heights and set widths reduce cutting forces, to enhance cutting performance and increase blade life. The stretched tooth gullet also increases fatigue strength to provide longevity to the band.
What triggered this innovation? 
As a leading manufacturer of premium bandsaw blades, the development of new blades with high-performance tooth geometries has always been very important to us. Working with our customers that required higher productivity and performance in large applications, we implemented a hands-on approach to develop and test extensively. This successful collaborative approach with our partners led to the production of the VTX.
Final conclusion – Mission Accomplished.
About Eberle: high-quality band saw blades and band steels from Augsburg
The Eberle company manufactures high quality precision band saw blades and customized band steel. Highly motivated employees, agile structures and an enormous technical know-how form the basis for tailored-made quality products made of steel. The history of the company dates back to 1836 and has been closely connected with the refinement of steel ever since. Eberle is the only saw manufacturer in the world to rely on the realization of all production steps, including the raw material, we produce in-house.
This means that all band saw blades and band steels from Eberle are produced quickly and flexibly according to individual customer requirements, while adhering to precise manufacturing and intensive testing. Furthermore, all Eberle products are guaranteed "Made in Germany".
Frequently Asked Questions

Our contacts for national and international sales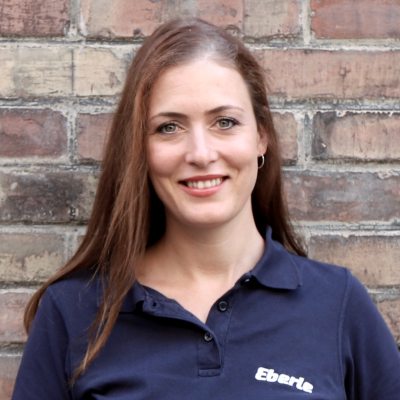 Julia Hartmann
Area Sales Manager
Regions:
Asia / Pacific
Temporarily represented by
Jasmin Fackler / Roger Kindler