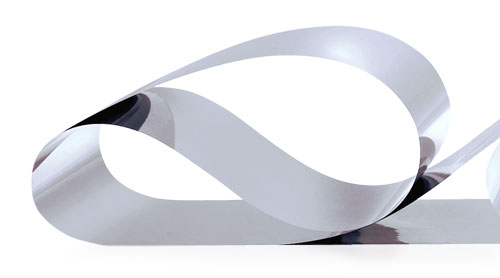 Benefits at a glance:
narrow thickness tolerance and width tolerance
best roughness and surface finish
perfect flatness and straightness
ideal edge geometry
Other Applications for Spring Steel
Are you looking for a spring steel for a really special application that you haven't been able to find yet in our product range? If so Eberle can provide you with exactly the precision strip steel that you need. The applications are so vast in number that they can hardly be counted. We supply specially tailored strip steel for such widely differing uses as sewing machine needles, strippers, crepers, scrapers and doctor blades, springs, knives and chocolate knives, musical instrument reeds, textile sinkers, formed parts and many others in addition. Give us a call if you would like to benefit from the quality of spring strip steel with very specific properties and dimensions.
Grade
Chemical Composition (percent nominal)
Comparison of Norms
C
Si
Mn
Cr
DIN
Material
AISI
Eberle 13
0,75
0,25
0,70
–
C75S
1.1248
1075
Eberle 18
1,00
0,25
0,40
–
C100S
1.1274
1095
Eberle 18ER
1,00
0,25
0,40
–
C100S
1.1274
1095
Eberle 30ER
1,05
0,25
0,30
1,50
102Cr6
1.2067
on request
Eberle 50ER
on request
on request
on request
–
on request
on request
on request