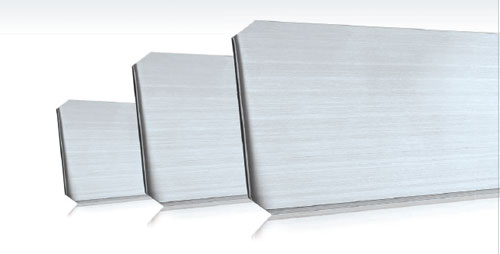 Benefits at a glance:
maximum straightness deviation of 0.6 mm/3 m
outstanding purity grade
consistent, specially adapted microstructure
exact edge geometry
also small quantities can be supplied fast
Doctor Blade Steel
Our strip steel for doctor blades uses high grade steel and is manufactured with precision, making it a key component for ensuring reliable processes in the printing industry. Manufacturers of doctor blades used in gravure or flexographic printing for example, appreciate the consistent quality of our strip steel for doctor blades. It can be reliably processed and its precision guarantees that the products made from it are of excellent quality. To find out more please call us – we will be very happy to take your call!
Parameters
Recommendation
Thickness tolerance
T2
Tensile strength
range M
Flatness
class 3
Surface
white polished
Edges
rounded
Grade
HiQ 50ER, HiQ 30ER, HiQ 18ER
Straightness
HiQ 50ER, HiQ 30ER, HiQ 18ER
class 5
Print 18S
class 4
Print 18
class 3
We supply the appropriate steel grades and processing for each type of doctor blade that you manufacture.
The special characteristics of our High Quality grades are determined by:
max. straightness deviation of .024 in/10 ft
superior purity grade
constant and specially adapted microstructure
best flatness metrics
exact edge geometries
Our Print grades feature the following winning criteria:
defined straightness
constant microstructure
best flatness
exact edge geometries